First Vows at the Novitiate in Bobo Dioulasso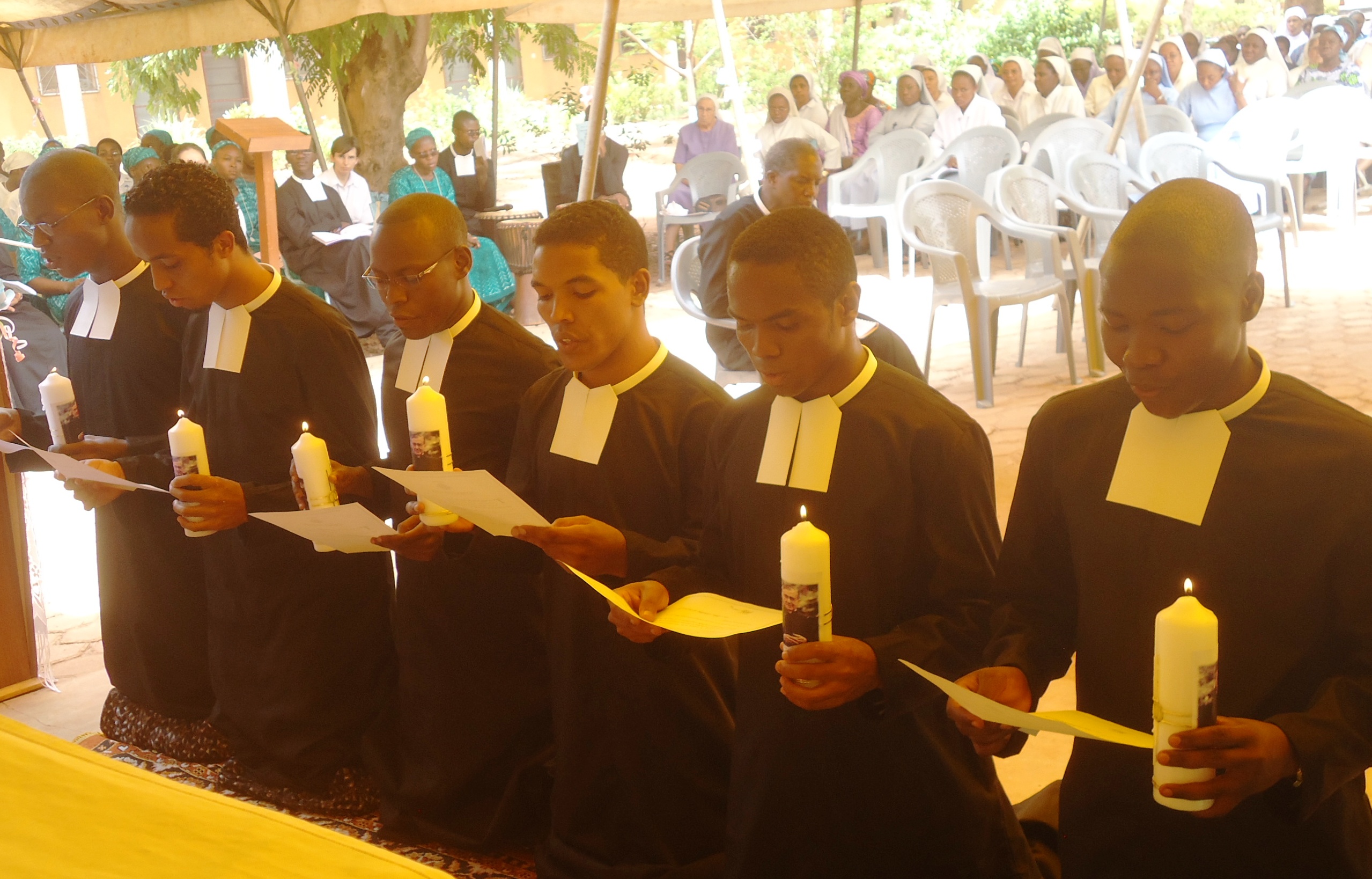 Eight novices Brothers made their first profession at InterAfrican Novitiate in Bobo Dioulasso. The ceremony took place on Friday, June 12, 2015, inside the Novitiate in the presence of numerous guests, priests, religious men and women as well as Novices of several congregations from across the diocese of Bobo Dioulasso. Should it be noted that the Church celebrated on that same day the Feast of the Sacred Heart of Jesus, World Prayer Day for the Sanctification of Priests. Thus the celebrant invited the assembly at the beginning of the Eucharist, to pray for the latter and to allow themselves be refreshed by the contemplation of the pierced side of Christ on the Cross, symbol of a total love and a life given to the Father and to men.
The newly professed Brothers have walked during their Novitiate under the patronage of Saint Jose Maria Escriva, model of life as consecrated to God for the service of the poor. For them, Jose Maria represents many qualities and devotion to fully live their consecration to God as Brothers of the Christian Schools. We read in one of his biographies: "He spent many hours caring for children and the sick and the poor in the suburbs of the city." This is what motivated them to choose the word that will guide their vocational journey: "Whatever you do, do it from your heart, as for the Lord and not for men. Col.3, 32 ". Meanwhile, the celebrant recalled some qualities in order to live well their consecration to the Lord. Referring to the Sacred Heart of Jesus, he addressed the newly professed saying that to consecrate oneself to God, one must love as the Lord Jesus did.  He also recalled that celebrating these first vows on the year of Consecrated Life is a grace for the Congregation of Christian Brothers and the universal Church.
Congratulations to the eight newborn Brothers Christian Schools in Africa: Brothers Ernest, Aimé and Jean Noël from the District of Antananarivo; Brothers Emmanuel and Jean Pierre from the District of Central Africa; Brother Braz from Mozambique Sector; Brothers Eddy Michel from Congo Kinshasa District; and Brother Severin from the District of Gulf of Benin.