South Africa: Pastoral visit of the general Superior in the District of Charles Lwanga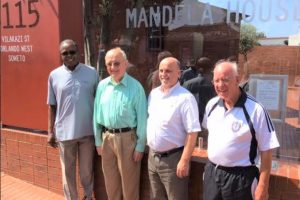 Saturday, January 21, 2017
The General Superior, Brother Robert Schieler, resumed his pastoral visit in the RELAF this Saturday, January 21, 2017. He started with the oldest sector of Lwanga District, that is, South Africa where the Brothers arrived in 1904. Accompanied by Brother Thomas SHEEHY, the sector coordinator, and staff members from De La Salle Holy Cross College and also from Junior School De La Salle Discovery, he went to Phokeng in the community of "Tsholofelo". The community of hope, that's what "Tsholofelo" means, is a diocesan community founded in 1992 under the hospices of Rustenburg Bishop. The "New Community" is very open and co-chaired by a Brother Joseph and a Sister Georgina. It has a Brother with perpetual vows and another one with temporary vows. They vow association with the diocese. The community currently has four aspirants. It is engaged in health and also education service for the benefit of two crèches for children and a clinic. It also offers training programs to young people and adults living in dwelling squatters.
While the General Superior was conducting this first visit, the General Councillor for RELAF was still in the air.  Leaving on Friday, January 20 from Abidjan via Addis Ababa, he finally arrived in Johannesburg on Saturday, January 21 at 2 pm. He was welcomed at the airport by Brothers Timothy and Cornelius who led him to the Brothers community located at Slabbert Street Discovery 1709.
This same Saturday at 5.30 pm, the General Superior, the General Councillor and the three Brothers from the Discovery community attended the Saturday mass at "Our Lady of Peace" church.
Sunday 22 January 2017
Sunday was devoted to visiting some of the Johannesburg city's highly symbolic places. We first had a magnificent panoramic view of the city from the top of Carlton Tower fifty floors. We then visited Christ the King Cathedral where there is an important service for refugees especially from Zimbabwe and Congo Kinshasa… We could not miss a visit to the historic neighborhood of Soweto (South West Township) from where begun the revolt of secondary school students against the decision of the government imposing on them the learning of the Afrikaans. What began as a peaceful demonstration on 16th of June 1976 claimed the lives of hundreds of young people. This movement will lead to a civil war and then to a free and democratic South Africa.  At the heart of this historic district is located the great church "Regina Mundi" where a museum has been built to recall these tragic events in the history of South Africa.
We could not leave Soweto without going to Nelson Mandela's House located not far from that of Archbishop Desmond Tutu. We found ourselves immersed in the heart of a historic neighborhood that is very touristic. This day was a good preparation for the visit to come in the two Lasallian educational works: La Salle Discovery and La Salle Holy Cross College of Victory.
Brother Pierre OUATTARA, general Councillor