Abidjan: End of Academic year at CELAF Institute.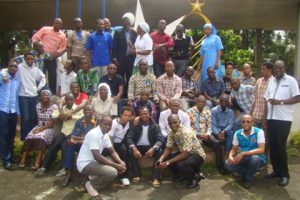 From Wednesday 11 to Friday 13 May, Students of the CELAF Institute in Abidjan celebrated the end of the academic year 2015-2016 and the Feast of the Holy Founder, Saint John Baptist de la Salle, and Patron of all Educators. Several activities have occupied these days of celebration: football and basketball games, play and songs, the Students' General Assembly, "Questions for a champion" and the closing Mass followed by a fraternal sharing.
Wednesday was spent in sport activities in which the various departments of CELAF and its Administration took part. At the end of the day, students were entitled to awards followed by refreshments in music…
Thursday was marked by the Students' General Assembly and the report of the Students' Committee Office which was presented by its President, play and cultural presentations.
Lastly on Friday 13th May, in the morning, all students gathered to cleaning the courtyard and installing chairs and tables … In the afternoon, a beautiful Mass was presided by Father André ALLOU, Dean of the Theology Faculty of the Catholic University of West Africa, Professor of Bible and Pauline literature at CELAF Institute.  Several other priests, who are also lecturing at CELAF, concelebrated the mass. […] The General Councilor for RELAF, Superiors of different religious communities within the Institute as well as other representatives of Higher Institutes have graced this beautiful celebration. After the Eucharist all guests and students were invited to a dinner during which Students performed dances from various countries including Madagascar, Congo, Togo, Haiti and Ivory Coast…