Abidjan: French Parliamentarians' Visit to Akwaba Center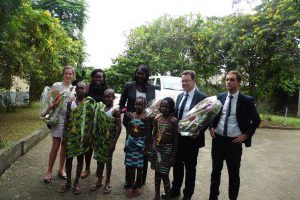 On Wednesday 28 September 2016, the children of De La Salle Children's Home/Akwaba Center received the visit of a delegation of French parliamentarians. Accompanied by two staff members of the Embassy of France, the delegation arrived at 15:45 min. They were welcomed by four (04) children from the Center.
The visit began by touring the various facilities of the Centre, namely the Administration, the kindergarten, the TV room, the main Hall, the library, the dormitories, the refectory and the kitchen. After this visit, the parliamentarians then settled at the apatam to continue the meeting.
At the apatam, the representative of the children spoke on behalf of the Centre to welcome the guests. Then a panel took place for children from the center, teachers, resource persons and the guests. This panel allowed the latter to ask the children and teachers questions for more clarification on the activities of the Centre. Dances, poem, song punctuated the panel … At around 5:15pm, a group photo was taken before the departure of the guests.