Antananarivo: Interclass matches at ISF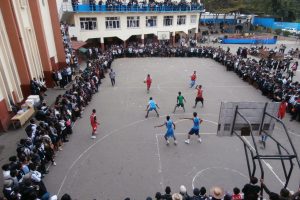 April and May are the best time in Madagascar to organize sports activities in schools. Best time in the sense that it is the end of the rainy season in the Big Island or at least in the highland like in Antananarivo province. In this beautiful country of Blessed Brother Raphael Louis Rafiringa, it is also the period when Lasallian institutions/works and all Lasallians celebrate in a special way the Lasallian weeks whose whose peak is scheduled every year around the Founder's and all Educators' Day, May 15.
At Saint Famille Institution (ISF) in Mahamasina – Antananarivo, Students, girls and boys of the lower secondary level made known their talent in interclass Basket Ball matches organized by the sports commission. As it has always been the tradition in ISF, the best teams will always be rewarded with a trophy at the end of the competitions.