Bata – Equatorial Guinea: Pastoral Visit of the general Superior in the District of Central Africa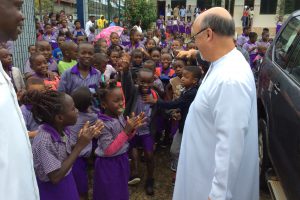 Step 1 – Bata in Equatorial Guinea
The program for this Wednesday 26 October has been somewhat disturbed by the heavy rain that has fallen on the city. The general Superior visited the catechists' school of the Diocese of Bata headed by Brother Manuel Carreira assisted by a team of trainers. For this school, there is also production of all the teaching material necessary for human and catechetical formation of fathers and mothers catechists from different parishes in Bata. The School operates as a boarding school whereby a point of emphasis is placed on cleanliness and order…
The general Superior then travelled to La Salle Professional Training Centre in Bumodi which is still in Bata. This centre of 120 professional learners also includes a primary school of 307 students together with a kindergarten. After his welcoming word, the Director, Br Emile Onana, presented the general Superior and the Councillor to the team of 11 primary school teachers and 9 professional education teachers. In this team, there are 6 former students of Lasallian Schools. During the discussions, the wish was expressed by teachers to have discussions, training, recycling sessions with other Lasallian Institutions. The Superior told the team how much he values the role it plays in this Lasallian School and encouraged them in their desire to discuss. He particularly emphasized the importance of the role and place of women in our schools and invited them to organize themselves to be more visible and audible…
The primary school students, with order and discipline, presented a beautiful entertainment of songs and dances. The general Superior was graced by a welcoming of well articulated in Spanish by a student less intimidated by the public despite her young age. Another small girl proceeded to raise the flag while all of her classmates sang with conviction the national anthem. The Brother superior, accompanied by the Director of the school went to each of the classes for a more direct contact with the children. The joy given to them by this visit of a famous person could be read on their faces.
The electricity workshops, computer labs, training in administration and management rooms were visited in the presence of their users. These formations, although not graded, are well appreciated by all. The training section in the carpentry had to be closed because of a lack of candidates in sufficient number. The desire of the learners, expressed during the meeting with the general Superior, is that these different vocational trainings prepare for an official diploma. With regard to the economic crisis that the country is going through, it is not easy to find internships in companies or to pay the school fees which amount does not match yet the real cost of the training. The general Superior, after a brief message welcomed questions of these technicians in training.
He assured them of the attention the Brothers and their trainers give to their needs and concerns. As much as possible, a response will be given in particular through the Solidarity and Development Secretariat.
A photo session with the students then immortalized this visit of the general Superior
The rest of the day, past noon, was dedicated to the 5 members of the Brothers' community.