Benin: Back to school in La Salle Akassato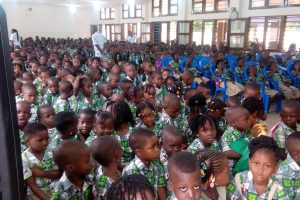 "Good morning my Brother", "Good morning my Sister", "Good morning Sir" … It is by these distinctive greetings and the happy mood to meet again, but also mixed with fear of starting a new year, that we could easily get to know that the opening of the classrooms was taking place in the country of Talon. Oh yes! "In the kingdom" of Akassato, how interesting and touching it is  to see our students, the new students  "frightened" and clinging on to their parents while the  older students were very excited and enthusiastic!
Indeed, the start of this new academic year was for some a time to renew their passion for the teaching profession and of course for others the passion of learning as a student. What a great job to educate! In this exchange of giving and receiving where we could see all the colours on the outfits, everybody, parents and visitors, teachers and students, expected only an event that is little or less celebrated elsewhere, but which occupies an important place in Lasallian schools, and everyone is already aware of its importance at the beginning of a new school year: the prize-giving to the best students and scholarship to the first student in each class. In his opening remarks, the general Director, Brother Rodrigue TOEPPEN welcomed all the students, teachers and parents and all the friends of La Salle who were present. He also congratulated the first class of graduates for their very satisfying work. He did not fail to invite the new candidates in the various exams, especially those who will be preparing for the high school certificate to put "discipline and rigor in the service of excellence", which is the year's theme.
Education is the most precious thing to which all men must have access, and no one doubts it. It offers the possibility of knowledge about things. It helps acquire the right attitudes and the appropriate behaviours that society demands from every person. And this is why it is a fundamental right for every man.  In fact, Hugo does not think otherwise when he says that "every child we teach is a man we win". What can be the pride of an educator? The child he educates to become a man and realistically approaches life. Doesn't he?  For the Brothers and their collaborators, to educate a child is to lead him on the path of happiness and it is their seriousness in this profession of educator that makes the joy of the parents. Education is a passion that is renewed.
Brother TANWOUNE Séverin
District of Gulf of Benin