Burkina Faso: Back to school in La Salle Badenya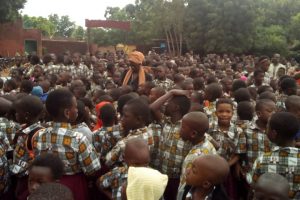 On Saturday, September 22, 2018, coming from all walks of life, happy and eager to meet their comrades, more than one thousand seven hundred (1,700) elementary and high school students revived the school compound.
As usual, students, parents, educators, administrators, Brothers from La Salle Badenya community gathered for the opening ceremony and entrusted the school year to God.
After the flag raising ceremony, the student leader, the staff leader, the representatives of the parents' associations of primary and secondary schools, the Headmistress of the primary school and the Brother Director respectively took the floor to wish a fruitful school year and gave orientation for the smooth running and success in our mission.
Mr. Anselme Traoré was introduced as the new deputy principle, replacing Mr. Albert Wangrawa who retired in August 2018.
The 2018-2019 school year theme is: "I am Lasallian, I live fraternity and I respect the environment". This sends us to the call of Pope Francis in his encyclical LAUDATO SI inviting us to invest in the safeguarding of the common house.
Among the guests, there was the remarkable presence of the Diocesan Director of Catholic Education, Father Yves Tanga. Speaking at the end, he congratulated everyone for the work done and gave the final blessing.
We wish the entire lasallian family a fruitful school year.
Live Jesus in our hearts.  Forever!
NANEMA / DALA Rose
Headmistress of La Salle Badenya Primary School