Day of Consecrated Life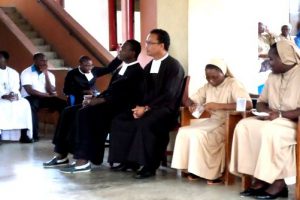 Saturday, June 11, 2016, the religious / Religious of Good Shepherd Parish Riviera III completed the closing of the pastoral year 2015-2016 at the Marianist Brothers community. The Mass said on that occasion after the rosary, was presided by Father Ambrose Manda, "Good Shepherd" Parish priest. On this feast of the Apostle Barnabas, the liturgical texts proved in turn, the personality of Barnabas, "man filled with the Holy Spirit and Faith",  brave companion of Paul that helped the latter to strengthen the faith of the people of Antioch in the first reading and sending on mission of the disciples in the Gospel.
These texts rhymed with our deeply religious mission which is nothing else than to give freely what we have freely received. In his homily, the celebrant mentioned the importance of the presence of consecrated people in the Church. He did not fail to express his joy to see many religious communities on the parish emphasizing the role that religious play through catechesis, pastoral work with the youth and other church activities. In his closing remarks, Father Ambrose also expressed his desire to better collaborate with religious communities of his parish in the shared mission.
Referring to the readings of this day, we emphasize that the diversity of richness of these texts was the image of the congregations represented including we, the De La Salle Brothers … This day was called a "relaxing day" and was also a day of fraternal sharing and dance animation. It was marked by the presence of agents of the Catholic Radio Television "Ecclesia" for a report of the activities planned for this purpose. In the afternoon, sports activities were organized. These included basketball, volleyball, and football. Everything was to the exhortation of Pope Francis "where there are consecrated people, there is joy." Indeed, we concluded at 17h 30 'in a festive atmosphere with the refrain "life is beautiful when you know giving it to others."…
Br. Sévérin Tanwoune, St. Miguel Scholasticate, Abidjan – Côte d'Ivoire