Guadalupana De La Salle Sisters in Benin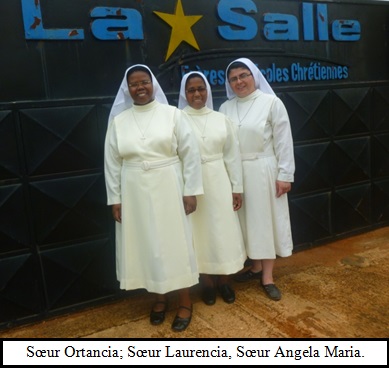 Since Thursday, May 28, 2015 the three Guadalupana De La Salle Sisters arrived in Benin, Gulf of Benin District. These Sisters are Angela Maria Sanchez Castana from Colombia, sisters; Laurencia ALPHONSE and Lanto Ortancia OLINIRINA, both from Madagascar. Sister Lanto Ortancia arrived May 25, 2015; and the other two on May 28, 2015. During her trip to Benin, Sister Laurencia in Nairobi was delayed because of a strike at the Bernardin Gantin International Airport of Cotonou; which resulted into an unexpected stay in Nairobi. From now on, history will remind in memory their entry into the land of Benin. All three Sisters are doing well and adapt pretty well to Akassato, their host community.
Let us recall that the arrival of the Sisters in our District was the desire of our former Brother Visitor, José Manuel Sauras and the Council at the time. And in the past, the Council wished to assign to the Sisters, the management of the kindergarten De La Salle Akassato and if necessary, other activities in other pedagogical levels. Everything seems to indicate that they already incorporate this mission. They visited the little ones in kindergarten. Currently, they are putting in place the toy library, obvious signs about their motivation to prepare for the next school year. Even if it seems far away, popular wisdom tells us that "the future belongs to those who find in the present the hope of their future". Dear Sisters, Welcome! You are now at home; for wherever we find a heart that welcomes, there we also find a land to live. Live Jesus in our hearts, forever!
Br. Guillaume YAME, District of Gulf of Benin
To know more about the Guadalupana De La Salle Sisters, please follow Guadalupana De La Salle Sisters  or Hermanas Guadalupanas