Kenya: Mwangaza College 23rd Graduation Ceremony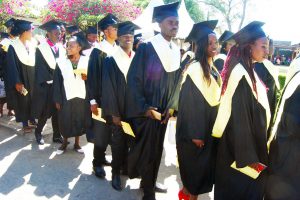 One hundred and two graduands from Mwangaza College graduated during the 23rd graduation ceremony which was held at Mwangaza College ground in the outcast of Nakuru town on the 4th of December 2017.
The graduands were from different departments among them; Hospitality, Food and Beverage, Business and Accounts, Information Computer Technology (ICT) and Fashion, Tailoring and Design. Majority of those who graduated were from the department of Hospitality, Food and Beverage. It is important to note that there were no graduands from Hair and Beauty department.
The Guest speaking for the day was Mr. John Paul Ngeso, the teaching practice coordinator at Christ the Teacher Institute of Education (CTIE), an institution that is conducted by the brothers in Nairobi, Kenya. Mr. Ngesho congratulated and encouraged the graduates not to stop at the certificate or diploma level but to desire to pursue further education and get the best out of what life can offer.
The Director of the college, Bro. Oscar Okoth also congratulated the graduates and challenged them to go out there and make a difference in the lives of others. "Use what you have received from Mwangaza to change the world." Bro. Oscar commented. Meanwhile, He congratulated the staff members for their cooperation and thanked them for the good job they have done. He also appreciated the Parents for their commitment to the provision of whatever their teenagers needed in their academic endeavours.
The Deputy Director, Mr. Paul Waweru on his part, echoed his sentiments of congratulations to the graduates on behalf of all Mwangaza staff members. He also used the same platform to urge the remaining students to continue to work hard and to take advantage of what Mwangaza offers them in order to achieve the best in life.
On the other hand, the former students' leader also took the platform to congratulate the graduates and wished them all the best as they get ready to face the world with all the challenges and opportunities the world will throw at them. "Be courageous to face the world since Mwangaza has given you what it takes to be strong, fit and survive in the job market." He commented.
Meanwhile, the Eucharistic celebration was led by Fr. Stephen Nyamueya, who came to represent his Lordship Bishop Maurice Muhatia. The Bishop was unable to attend the celebration due to some engagements in the diocese. However, he sent his greetings and warm wishes to the graduates and wished them all the best in their future endeavors. Father Nyamueya on the other hand, congratulated the Brothers for the good job they have done and the staff members for preparing the students well.
By Bro. Michael Otieno