Young Lasallian Campain: "Friends among Friends for the Kids"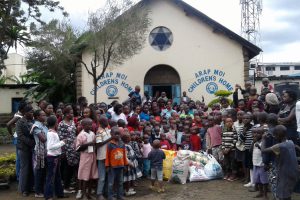 Young Lasallians from Mwangaza College in Nakuru made a visit to a children's home with the aim of putting a smile on the faces of the children at the orphanage. The visit was under the campaign "Friends among Friends for the Kids." The Arap Moi children's home is named after the second president of Kenya, Daniel Arap Moi. It is located in Nakuru in the East African rift valley and caters for the whole region. Many of the kids in this home had found themselves displaced as a result of the 2007-2008 post-election skirmishes which rocked Kenya following the hotly contested general election.
Currently, the home houses over 160 children whose ages range from new-born babies to 18 years old secondary school students. Along with the children's home, the institution also accommodates a nursery school for young children. After three years in the nursery school, students have the option to enter the Primary one at a nearby school. The main activities of the children's home are to promote the welfare of children, to encourage their development, and to assist children facing cruelty, neglect, abandonment, poverty, abuse, loss of parents, or other misfortunes.
The campaign entailed coming together as friends and as members of Lasallian family to make a monetary contribution. The college formed groups of four friends among the Lasallian students, where each group had a target of raising Ksh. 500 equivalent to 4.94 US Dollar.
Moreover, the campaign was supported by Mwangaza staff members under the leadership of Bro. Oscar Okoth the principal. They warmed up to the Lasallian spirit by making their donations as well as accompanying Young Lasallians to the Children's home. The funds collected amounted to Kshs 27,000 equivalent to266.8183 US Dollar. "We were able to purchase things such as flour, sugar, rice, bar soaps, detergents, some stationeries, sanitary towels, diapers, sweets, biscuits, cups," said Pius Ng'ang'a. There were also material donations like clothes, he went on to say.
The time was well spent at the orphanage. They participated in various activities and spent quality time with the kids. They took part in different activities among them; general cleaning of the facilities such as dormitories, class rooms and wash rooms. We also washed the kids' clothes, prepared their meal, played with them, made and shaved their hair and fed the toddlers Pius Ng'ang'a said. They arrived at 09.00am and left at 03.00pm.
Bro. Michael Otieno, Sector of Kenya