Madagascar: 150 Years of Lasallian presence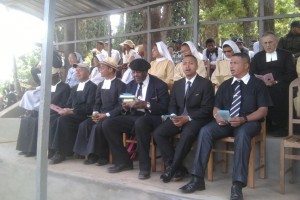 On November 24, 2015, the Lasallian Family gathered in Soavimbahoaka – Antananarivo, to mark the anniversary of the arrival of the first De La Salle Brothers in Madagascar. A solemn Mass was celebrated on this occasion the Episcopal Vicar of the Archdiocese of Antananarivo. Students, teachers, educators, former students of Lasallian schools and various Lasallian groups honored the event. During Mass, a special prayer was said for all the deceased Brothers of the District. Let us recall that the 3 Brothers Yon, Ladolien and Gonzalvien were the first De La Salle Brothers that arrived in the Island on November 24, 1866.
Saint Joseph Andohalo School was the first school entrusted to their care. Blessed Raphael Louis was one of the first fruits of their dedication to the education of many children and the youths in Madagascar. Today the Brothers and their Lasallian collaborators continue the evangelical adventure through the education of thousands of children and young people in 14 schools and educational centers in the country.
The celebration of the 150th anniversary of the Lasallian presence in the Island was opened last year on the same historical date of November 24. Thus, throughout the pastoral year 2015-2016, the District of Antananarivo will celebrate this anniversary with various activities whose theme is: "De La Salle mampiombona antsika" or "De La Salle unites us."
Br. Michel Tolojanahary