Madagascar: Pastoral Visit of the general Superior in the district of Antananarivo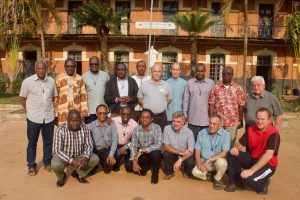 RELAF Regional Conference of Visitors
Friday, November 11, 2016
Arrived on Tuesday, November 8, at Ivato airport of Antananarivo, the Superior took an active part, during three days, in the RELAF Conference of the Brother visitors. It was a Providence favour to be able to hold this conference on this historic hill, initially a park for the King's bulls, then bought by the Brothers around 1890 and named "Soavimbahoaka", meaning "Blessed from the People," by Brother Louis Rafiringa. At the summit of this hill is can be found precisely the shrine dedicated to Blessed Louis Rafiringa and the District Postulancy.  From this height, with the city at your feet you can have a very beautiful view of the surroundings.
The Conference of the Brother visitors, stretching over three days, was ended this Friday, November 11. The Brother general Superior participated throughout in it. Brothers Gustavo Ramirez, Councillor in charge of higher education and of the Association and mission Secretariat, Amilcare in charge of the Secretariat for Solidarity and Development, and Ambrose Payne, general Bursar of the Institute also participated. At this solemn closing the Brothers who are members of the District Council of Madagascar, the representatives of the different groups of the Lasallian Family (Signum Fidei, Alumni Association, Lay partners …), two representatives of the Guadeloupian Sisters were invited.
The celebration of the 150 years of the Brothers' presence in Madagascar motivated this choice to hold the Conference on the Great Island in order to express a momentum of solidarity toward the district of Antananarivo. The general Superior, in his Message during the closing of the Conference of the Brother Visitors highlighted the four major Lasallian networks whose close collaboration is more necessary than ever to the Lasallian mission: the network of Brothers, that of former students, of Signum Fidei, of Lasallian Universities… The General Councillor of the RELAF congratulated and thanked the Brothers of the District of Antananarivo in the occasion of the celebration of the 150 years of Brothers' presence and of the Lasallian mission in Madagascar. The district of Antananarivo has a long tradition of sending Brothers in mission at the level of common services of the region and of the Institute. Br Michel Tolojanahary is part of this long tradition of generosity of his District. The closing of the Conference was also the occasion to thank and to offer him a gift for the 5 years of service as Regional Secretary. The District of Antananarivo offered a gift commemorating the celebration of the 150th anniversary to the general Superior, councillors, and to all the Visitors and invited participants in the Conference… The pastoral visit of the general Superior is placed in the dynamics of this celebration of the 150 years of service of education for the benefit of the poorest.
General Councillor for RELAF (Translation by the Regional Secretary)