Madagascar:Pastoral Visit of the general Superior in the District of Antananarivo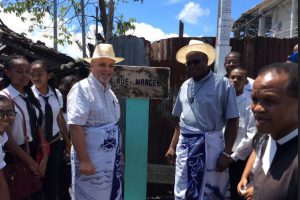 Monday, November14: Visit in Lycée Stella Maris of Toamasina
Our Flight from Antananarivo to Toamasina lasted only 35 minutes. A reception committee led us straight to the airport lounge where a member of the students' parents association, a Physics and Chemistry teacher in the school and BR Jean Noël, Director of the biggest Catholic High School of Madagascar were waiting for us. Stella Maris has 3000 students and 150 teachers. It gets almost every year the best results in the country official examinations. A traditional loincloth was wrapped around the general Superior's waist and a hat was offered to him by the hostesses…
Preceded by a police escort and a crowd of students on motorbikes, the general Superior's escort made a sensation throughout the city. A few hundred meters away from the school entrance, we stopped to unveil a stele bearing the name of Br Marcel, one of the first founders of Stella Maris… a hedge of students, some in school uniform , others in Scout uniform, cheered and welcomed, some in English, others in French, the Br superior as he passed. On the portico entry pediment, the logo "La Salle" is drawn, with the well known motto: "Faith Fraternity Service", and just below it: «tsy misy mafy tsy laitry ny zoto "; meaning "nothing is impossible to brave hearts ".
In Stella Maris' compound of honour, the Superior met a throng of students and shook hands of some students crowding him. These students, under the guidance of a teacher, sang first the hymn composed by BR Chrysologue on the occasion of the celebration of the 150 years of Brothers' presence then went on with their school hymn. Dances performed by lovely ladies were nice despite the burning floor. The welcome speech of BR Jean Noël, the school Principal, was followed by a general presentation of the institution… The general Superior's speech was translated into Malagasy by BR Michel…
At 2.00 pm, the Superior went to Hanitra Centre located within Stella Maris. A team composed of lay teachers take care of sixty children especially in the afternoons in order to give them a chance of schooling because they stopped going to school primarily due to lack of means from the parents. Craft workshops, weaving, sewing, and stitching are recommended to senior girls and boys… the many questions of the Superior had no other purpose than to better understand what their needs are… it appears that these children have difficulty finding what to eat. Their parents do not have the resources necessary to pay the registration fees in public schools. The Centre would like to assist those who are doing well get into regular schools but does not have the means. A few sponsorships enable them to help some… Behold a centre which deserves a special attention from the Brothers.
General Councillor for RELAF (Translation by the Regional Secretary)