Nairobi: Brothers Celebrating the Canonization of Brother Solomon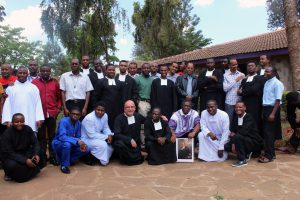 Brothers from different communities in Nairobi gathered at De La Salle Center to celebrate the canonization of Saint Solomon on Sunday 23rd, October 2016.
Saint Solomon was among the seven saints who were canonized by Pope Francis on 16th, October, 2016 at St. Peter's Square in Rome, following the successful processes required for one to be named a saint in the Catholic Church.
During his homily the Pope said "Saints are men and women who enter fully into the mystery of prayer. Men and women who struggle with prayer, letting the Holy Spirit pray and struggle in them."
Saint Solomon Leclercq was killed in 1792 during the French revolution. He died defending his faith and was enrolled among the blessed by Pope Pius XI on October 17, 1926 along side166 other priests and religious.
Solomon was the first Lasallian martyr, though he was soon joined by three others called the Brother martyrs of the hulks of Rochefort, who were also killed for their faith during the French Revolution. The feast day of all four of these martyred brothers is celebrated on September 2nd.
The miracle leading to his canonization was the inexplicable cure of a Venezuelan girl who had been bitten by a venomous snake.
Brothers in Nairobi joined the entire Lasallian family around the world in celebrating the blessings of seeing one of their own being named a saint. Saint Solomon adds into the list of saints and is the last in the list of Lasallian saints.
Meanwhile, those present for the celebration were; Brother Ghebreyesus Habte the Visitor of Lwanga District of Africa, his Auxiliary Brother Gabriel Griffin, Brother Agustin Ranchal, formation coordinator, Brother Antone Oloo, Kenyan sector coordinator as well as Brothers from scholasticate community, Novitiate community, and Christ the Teacher community.
The celebration kicked off with Holy Mass which commenced at 11am led by Father Jerome from Yola diocese in Northern Nigeria together with three other priests.
During the homily, Brother Ghebreyesus gave a reflection on the life and attributes of a saint. In his remarks, he encouraged Brothers to follow in the footsteps of Saint Solomon in doing the will of God. He added that, "A saint is one who acknowledges that he is a sinner. And one who completely abandons himself into God's hands."
Brother Michael Otieno
District of Charles Lwanga