Nairobi: Habit taking at the Noviciate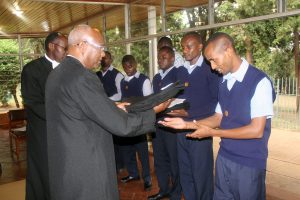 "Dear novices, thank you for surrendering and saying yes to Jesus." These were the words of Brother Visitor, to the novices during the Eucharistic celebration at De La Salle International Novitiate in Nairobi to mark the start of canonical year for the six first year novices and the habit taking of the five second year novices on 31st January, 2017.
The five second year novices are Moses Muriuki, Aron Ontita, and Samuel Roba from Kenya while those from Nigeria are Jude Mba and Emmanuel Aondohemba. For the next three months, the five will be out for community experience in different communities in Kenya.
On the other hand, the six first year novices are Augustine Chibuzor Nwode, Daniel Christopher Makama, Jade Okache Ngboma, John Peter Agbor, and Louis Willian Lilm from Nigeria and Manuel Luis Fernando form Mozambique. The six will be involved in different activities aimed at deepening their understanding of the Brothers' life and at the same time, being able to acquire the identity of the Brothers.
Meanwhile, in the short speech of Brother visitor, he started off by reminding Brothers that Surrendering is abandoning ourselves to a loving God and His dreams for us. Spiritual surrendering, he said, takes great courage and results because it is an active choice to place our person and possession into the hands of God. Such surrendering is always life giving, he added. Quoting from the words of Denis Creature, the author of spiritual surrender.
Dear novices, he said, I truly hope and feel confident and happy that each one of you feel prepared and ready to start this spiritual journey. Brother visitor then went on to mention examples of people who have abandoned themselves to God's love.
Among those who surrendered their lives totally to God are, "Moses who abandoned himself to liberate the children of Israel from slavery. Jonah who abandoned himself to save the Nineveh from destruction. Mary who surrendered to God and gave birth to Jesus the Messiah. Paul who became the great apostle to the gentles and St. John Baptist De La Salle who abandoned himself to God to eradicate ignorance from the society especially of the poor and the marginalized children." He said.
Lastly, he reminded Brothers and novices that God calls us again and again and that He always wants to create a lasting relationship with us. Dear Brothers and novices, we must ask ourselves whether we are ready to enter into friendship with God tonight and to surrender more completely to Him, He added.
Meanwhile, those present for the celebration were Brother Ghebreyesus, the Visitor, Brother Agustin Ranchal, the formation coordinator, Brother Antone Oloo, Kenyan sector coordinator, Brother Anthony Gitahi, the director of the novices and his assistant Brother Retta Gezmu. Brother Taddele Negash, the Director of the scholasticate and his assistant Brother Weldetsen who were accompanied by some student Brothers from the scholasticate community.
Brother Michael Otieno
District of Charles Lwanga