Announcement of the Regional Assembly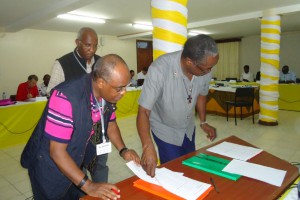 RELAF will hold her 6th Regional Meeting from 11 to 15 January 2016 in Nairobi – Kenya. According to the Statutes of our Region, the main goals of the Assembly are to evaluate what we have lived as an experience since our last Regional Assembly in 2010, to appropriate the Acts of the 45th General Chapter, to study particular subjects relating to the Church and to the Institute in Africa, to give orientations for the years to come and to approve the Statutes with its possible modification.
To this end, Brothers, Lasallian Collaborators and Lasallian Groups have been invited to send contributions in form of notes. The Assembly is expected to have 43 participants. These include members by right, elected delegates from various Districts and from the Delegation of Rwanda as well as invited persons from the Center of the Institute and the Superior General.
The Preparatory Commission composed of the Regional Team, in collaboration with Lwanga District, has been at work for weeks in preparation for this Assembly. Let us recall that one of the key issues to be addressed will be the Strategic Plan of our Region for the next 6 years. The commitment of everyone is therefore necessary for the development and effective implementation of this Plan.
Thus, let us join forces to build the future of the Lasallian Educational Mission in our Region, in our continent so much in need of men and women inspired by the charism and spirituality of our Holy Founder. In short, the Regional Assembly is an opportunity for our Region to show our unity in diversity which is made visible by our Delegation and Districts that form one and united Region.
The Preparatory Commission