The Formal Opening of St. La Salle School Karemeno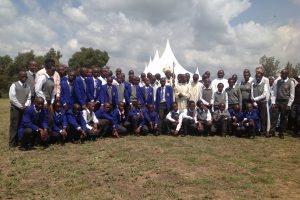 "My dear Students, make good use of holistic education you are receiving from the Brothers, It is your passport in life" This was the message of Bro. Gabriel Griffin, the Auxiliary Visitor of the Lwanga District of Africa during the formal opening of St. La Salle School Karemeno, in central Kenya on 2nd July 2016.
The Auxiliary Visitor represented Brother Visitor who was out of the country at the time. He delivered warm greetings and best wishes from Brother Ghebreyesus the Visitor of Lwanga District of Africa as well as those from the Sectors of Nigeria, Ethiopia, Eritrea and South Africa. Meanwhile, Bro. Griffin assured parents that their children will receive holistic formation in the hands of the Brothers. At the same time, he encouraged them to be supportive and get fully involved in the affairs of the school and in the lives of their children.
St. La Salle School Karemeno is under the able stewardship of Bro. Stephen Mwaura. Many messages of congratulations went to him for the good job he has done. Moreover, Brothers commented that Bro. Mwaura had worked tirelessly to see that the new school starts. In his remarks as the Director, he advised students to focus more on building a good character and not to concentrate only on academic work. He termed this as the most important element that St. La Salle School must focus on.
The Holy mass waspresided over by Archbishop Peter Kairo of the archdiocese of Nyeri located in central Kenya.Immediately after mass the Bishop blessed the school starting with administration block, classrooms, dormitories, laboratories and kitchen. During this exercise, the Bishop was accompanied by Brothers, Parents, Teachers, Students and the local community who also graced the occasion.
Among those present for the occasion were Brother Gabriel Griffin, the Auxiliary Visitor of the Lwanga District of Africa, Bro. Antone Oloo the Sector Coordinator of Kenya, Fr. James Ndirangu the local parish priest, Mr. Kiminda the chairman of the local parish council, Mr. Wahigwa the head of schools in the division, Mr. Neletu the Chief Educational Officer as well as Brothers from all communities in Kenya
Meanwhile, St. La Salle School Karemeno is the first school to be owned by Brothers in the Kenyan sector. It is located between Nyeri and Nyahururu in central Kenya. Currently, there are 69 form one students.
Bro. Michael Otieno, Fsc