Yaoundé: Pastoral Visit of the General Superior in the District of Central Africa: End of Stage 2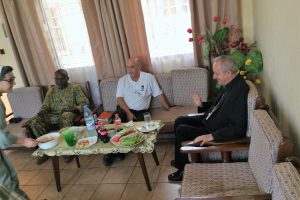 Thursday, November 3, 2016: Lomié-Yaoundé…
The Superior had to face this Thursday, November 3, nearly 9 hours on the road by car, first on the forest track from Lomié to Abong MBang and then on asphalt road from Abong MBang to Yaoundé. We stopped at Abong Bang to meet Bishop Ozga, Bishop of Doume- Abong MBang, who wished to meet the general Superior. Our arrival in Yaoundé coincided with the traffic jam due to school and offices closing time, such traffic jam is common in many of our African cities… As soon as we got into the community, the Superior was informed through email the sad news of the death of his niece Rihanna, aged 30 and mother of two children. It was a sad ending of a day already physically demanding, but everything is grace to whoever knows how to be loved by the Lord. Our prayers are with the family and the deceased…
Friday, November 4, 2016: Yaoundé-Douala
A 7:00 am, this Friday, November 4, we began the journey to Douala where we have to take the flight Douala-Djaména. The enthusiasm of our driver, Br Marek, to gulp down the 245 km separating Yaoundé from Douala, was cooled down several times by the controls of the agents of road safety… We were stopped not less than four times by these agents whose imagination, when it comes to take the road user at fault seems to be without limits. We were told to show the following documents: gray card, insurance, triangle of pre-signalling, first aid kit, fire extinguisher, driving license… While everything seemed to be in order, we were told to be wrong for having put luggage not in the luggage compartment but in the cab reserved for passengers.
We were awestruck by the sight of Edea city … its old large bridge utterly rusted, flanked on each side by gigantic characters representing the guardians of the city span a majestic and powerful river, the Sanaga… On our right, we could see a dam announcing a central electrical system which large part of the production is absorbed by a factory for the production of aluminium located not far away.
We arrived at Douala city entrance at 11:00 am. We had, however, an hour to reach De La Salle community because of the huge traffic of cars and motorbikes-taxis. Knowing our flight to N'djamena is scheduled for 6:20 pm, we calmly took lunch followed by a time of rest. A 3: 30 pm, it will again be time to move towards Douala airport. We therefore embark on the third and last stage of the visit in the District of Central Africa, that of N'djamena.